Jon Bon Jovi es humano, #respect
Jueves, 06 de Abril de 2017 09:25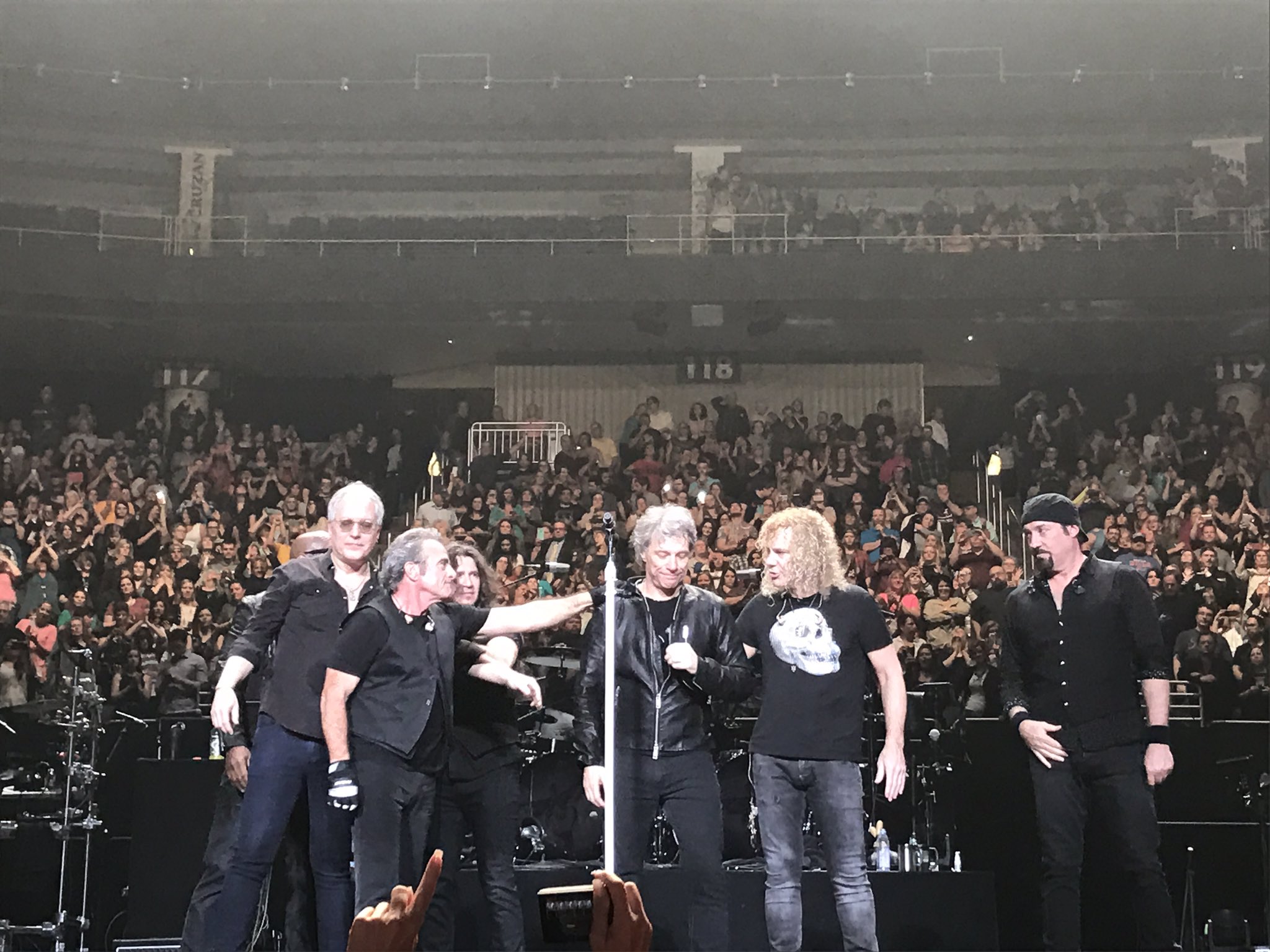 La banda actuaron anoche en el PPG Paints Arena de Pittsburgh donde realizaron un show bastante mas corto de lo habitual debido a que Jon Bon Jovi estaba enfermo desde el pasado Sábado con un fuerte dolor de garganta llegando al punto incluso de pedir ayuda a un fan para que subiera al escenario para interpretar "Born To Be My Baby" - "Este es el día en que necesito un cantante de karaoke", dijo. "¿Quién de ustedes pertenece a una banda de bares y sabe todas las palabras de las canciones de Bon Jovi?" y entonces un chico llamado Brad Evanovich colaboró como se muestra en este video.
David Bryan cantó del segundo verso en adelante en "Livin' On A Prayer" para finalizar el "espectaculo".

Si hace unos dias,  Bon Jovi estaban en el punto de mira después de empezar el último concierto con un supuesto "Playback" en "This House Is Not For Sale", hoy la banda vuelven a ser noticia por la incapacidad vocal de su lider que despidió su actuación después de 90 minutos de amargura "Siento no haber podido hacer el show completo esta noche. Dios os bendiga."
A su vez, su hermano Matt argumentó en Twitter: "Esta noche estoy orgulloso de ver una ética de trabajo como ningún otro. Se deja el alma en el escenario antes que renunciar #respect"
Pero algo mas sucedió esa noche, tal vez su apoyo a la campaña de Hilary Clinton le pasó factura en ese Estado ya que por primera vez no colgaba el cartel "Sold Out", llegando incluso a ofrecer entradas por 10 dólares a través de Groupón o socios de los Steelers.
Veremos si llega recuperado a los próximos dos conciertos en el Madison Square garden de NY.

1. This House Is Not For Sale
2. Knockout
3. You Give Love A Bad Name
4. Lost Highway
5. Whole Lot of Leaving
6. Roller Coaster
7. We Weren't Born to Follow
8. I'll Sleep When I'm Dead
9. Runaway
10. We Got It Goin' On
11. Who Says You Can't Go Home
12. It's My Life
13. Lay Your Hands On Me
14. Born To Be My Baby
15. Bad Medicine
16. Livin' On A Prayer
Mohegan Sun Arena Uncasville, CT
Domingo, 02 de Abril de 2017 19:10
1. This House Is Not For Sale
2. Knockout
3. You Give Love A Bad Name
4. Lost Highway
5. Whole Lot of Leaving
6. Roller Coaster
7. We Weren't Born to Follow
8. I'll Sleep When I'm Dead
9. We Got It Goin' On
10. Who Says You Can't Go Home
11. It's My Life
12. We Don't Run
13. God Bless This Mess
14. Scars On This Guitar
15. Lay Your Hands On Me
16. Born To Be My Baby
17. Have A Nice Day
18. Bad Medicine
19. Keep the Faith

Encore:
20. Wanted Dead or Alive
21. Livin' On A Prayer